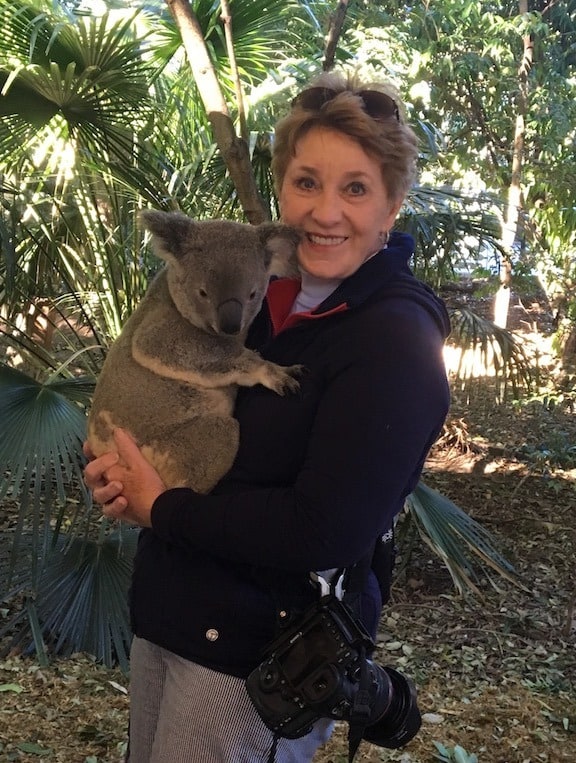 My Passion For Photography
Is My Drive To Teach
Fantastic for you that you are interested in learning more about the art and skills of photography and I thank you for considering me as your instructor.
Photography is truly a wonderful passion and many people are interested in learning or bettering their skills. I am a professional photographer and travel writer and have been taking pictures since I was 10 years old. I've traveled to all 7 continents and my area of expertise is landscape, cultural portraits, and wildlife photography.
Having developed my skillset over many years I have learned that it's one thing to have skills, but it is totally different to be able to communicate those skills and teach others. I have a background of 45 years of teaching experience. I love teaching, and I am enthusiastic about communicating my passion for photography.
I would like to help you get started on your photographic journey or help you up your game in whatever areas that interest you.
Photography Lessons to Fit Your Needs
My goal is to encourage your joy and for you to have fun pursuing your dream. Because of that I don't offer a specific curriculum but instead tailor my instruction to fit whatever your goals are.
I also try not to dwell on complicated exposure, aperture and ISO settings. Instead we will touch on the basics and make sure you know all the setting on your camera so they become second nature. This will greatly help you be able to focus on capturing the best composition and make those quick decisions that allow you to concentrate on the scene, without worrying about fumbling around with your camera.
Nature and wildlife photography is very different from in-studio portrait or product photography. In the "wild" it is crucial to be ready t0 capture that one moment in time that will never happen again in exactly the same way. Whether it is a fleeting expression in a portrait of an animal or person, or a unique landscape composition where the lighting or mood may change drastically in an instant, it is important to be able to compose the image and select the appropriate camera settings quickly to capture the artistic qualities of that given moment.
My first one-hour lesson is free and together we will create your personalized lesson plan.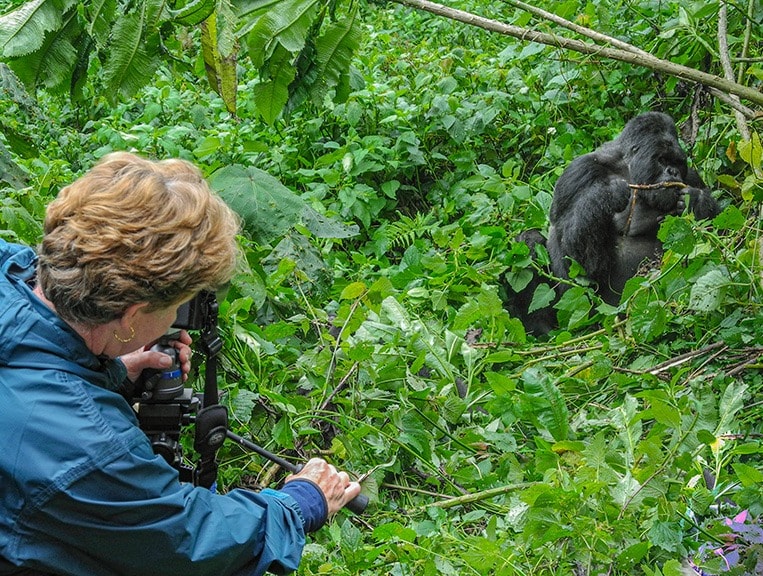 Nicki Geigert holding her composure. On location in Rwanda photographing wild Gorillas
Session One, Free
For your first session you'll bring your camera gear and manual and you'll demonstrate for me how to use your camera. This way I can gauge your familiarity with your camera and what you know and don't know. It's not a test and there is no pressure, it simply helps me assess your relationship with your camera.
Then we'll discuss your goals and plan your curriculum. I can offer a basic plan to help you develop a strong skill set and help you to get to know your camera and familiarize you with its settings. We will cover composition, story telling and more and can include wildlife and landscape photography as well as any other areas you want to cover.
We can also plan around what you want to learn if you have some specific goals in mind. We can include flash photography, night photography, light painting, panning, portraiture, starbursts or any combination of these and more basic skills.
Each hour-long session, $40
After your initial assessment you commit to 12 weekly lessons. Each week we will cover a specific topic, we will reinforce what you have learned the previous week, and I will give you an assignment for you to complete by the following week.
Each weekly lesson will center around a specific skill or technique. For example, the wildlife photography session (if you want that lesson) will include a visit to the San Diego Zoo Safari Park where we will practice the techniques I teach on my African Photo Safari Tours or my visits to places like Antarctica.
Every photo should tell a story and I will help you learn to think about what story you are trying to tell, along with tips on composition, planning, how to capture compelling images, lighting, aperture and depth of field, shutter speed and motion blur, and the artistic aspects which include light painting, starbursts, and panning
start your photographic journey today!